Vanessa Bell Calloway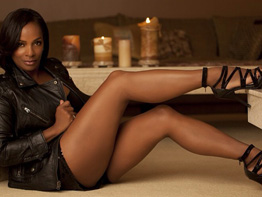 Vanessa Bell Calloway is a stage, screen and television actress who's earned eight NAACP Image Award nominations. She won the "NAACP Theater Award for Best Actress" for her critically acclaimed role as Zora Neale Hurston in "Letters From Zora".
A character actress in demand, Vanessa is best known for her roles in the box office smashes "Coming to America," "What's Love Got to Do with", "Biker Boyz", "Love Don't Cost A Thing", "Daylight," "The Inkwell", "Crimson Tide", "The Brothers", "Cheaper By The Dozen" and she voiced the lead female role in the animated feature "Bebe's Kids".
Calloway is currently starring in Bounce TV's new hit one-hour drama "Saints & Sinners" as the matriarch Lady Ella. Vanessa was recently seen in the Sundance Film Festival hit "South Side With You" where she portrays the first grandmother, Marian Robinson. After completing a pilot for A&E "The Infamous" this past spring, Vanessa then recurred on ABC's "Grey's Anatomy". She was in TV ONE's record breaking bio pic "The Miki Howard Story" as Josephine Howard the singers mother and she also starred in "To Hell And Back" an original movie for TV ONE as well. Vanessa recurs on John Well's top-rated hour drama "Shameless", on Showtime. Other recurring roles include Amazon's new series "THE HAND OF GOD", TNT'S "Murder In The First", "Rizzoli & Isles", "Hawthorne RN", NBC's "Harry's Law" and "Go On". Independent features soon to be released include "The Mistress", "The Preachers Son", "Medicine Men" and "Scout". Other Independent features include "The Under Shepherd", "The Last Fall" and "The Obama Effect".
Vanessa's television career began with ABC's "All My Children" and her television guest appearances are many. BET's "Real Husbands Of Hollywood", CBS's "NCIS", "Reckless", ABC's "Castle", Showtime's "Dexter", "Cold Case", "The Closer", "CSI", "CSI Miami" and "The District" just to name a few. Vanessa has a hit web series "In The Company Of Friends", and a new web series "Cookin & Hookin Up". Her Blog Talk Radio Show "That's So Very Vanessa", and her web series are all available ON DEMAND ANYTIME at WWW.INTHECOMPANYOFFRIENDS.TV.
Vanessa's stage credits are many. Not only did she sell out performances at The Pasadena Playhouse on two separate engagements in "Letters From Zora", she also received more rave reviews with her riveting performance at The Crossroads Theater in New Brunswick NJ. She starred in Seven Guitars at The August Wilson 20th Century Theater Festival held at The Kennedy Center, and in the Los Angeles production of The Piano Lesson. Vanessa brought the house down in the Los Angeles production of "The Divorce", and she also starred in the LA stage production of "Crowns" at The Ebony Repertory Theater and The Pasadena Playhouse. She recently was reunited with Zora playwright Gabrielle Pina for a new play "Dreaming Of Harlem Under A High Southern Sky," which also received raved reviews.
A professional dancer, Vanessa has performed with various professional dance companies as well as the original Broadway Company of the hit musical "Dream Girls" and several Off Broadway productions as well. Television movies include "The Temptations", "Memphis, "Polly", "Polly Coming Home" and "Dancing At The Savoy". Vanessa has two beautiful grown daughters, Ashley and Alexandra and she has been married to her loving husband Dr. Anthony Calloway for 28 years.
Vanessa Bell Calloway Acting Reel: