Vanessa's Kitchen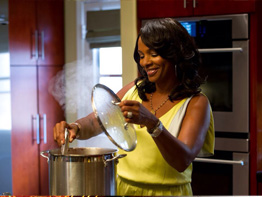 "For me there is nothing sexier, more alluring than an intimate, beautifully set dinner party with good friends! I'll take my dining room table over a high profile restaurant any day. Cooking my favorite dishes for some of my best friends and engaging them in great conversation is what makes my life special."
Recipe: ROASTED STRIPED BASS IN A SWEET CHILI SAUCE
Serves 3 to 4
Imagine the excitement at the dinner table when Vanessa served up this elegant and tasty entrée to her celebrity friends! You'll be surprised at how easy it is to prepare. It takes less than an hour to cook, but it looks like you labored in the kitchen all day.
Active work time is 15 minutes. Total preparation time is 30 minutes.
Main Ingredients:
2 to 3 pounds Whole Striped Bass (other sturdy fish can be substituted)
½ teaspoon pepper
¼ teaspoon salt
¼ teaspoon garlic powder
1 tablespoon olive oil
The Sauce:
2 tablespoons olive oil
½ medium red onion, chopped
1 medium red bell bepper, chopped
½ medium yellow bell pepper, chopped
½ small green bell pepper, chopped
½ cup Thai sweet chili sauce
2 tablespoons chicken stock or water
½ teaspoon pepper
2 scallions, chopped
Clean fish by removing the guts, scaling, and scoring. Pat dry with several paper towels. Rub fish generously with olive oil and season with salt, pepper, and garlic powder. Let fish marinade for 20 minutes.
 Place on roasting sheet with rack and roast in oven at 350 degrees for 5 to 8 minutes on each side, or until golden brown. Be careful to not over cook.
 In a separate skillet or wok, heat oil to high. When oil is hot, add onion and bell peppers, and sauté until slightly tender, about 1 to 2 minutes.
Stir in Thai sweet chili sauce and let it come to a boil.
Stir in chicken stock or water, add pepper, and simmer for another minute. Remove from heat.
Plate the fish whole on a platter and smother with sauce. Garnish with chopped scallions and serve.
For more recipes, decorating tips and a "fly-on-the-wall" view of Vanessa's dinner parties with her celebrity friends, check out her new web series at www.InTheCompanyOfFriends.tv.