I'm A Survivor!: These Black Stars Have Fought Breast Cancer
Vanessa Bell Calloway, Ananda Lewis, Matthew Knowles and more share their own stories.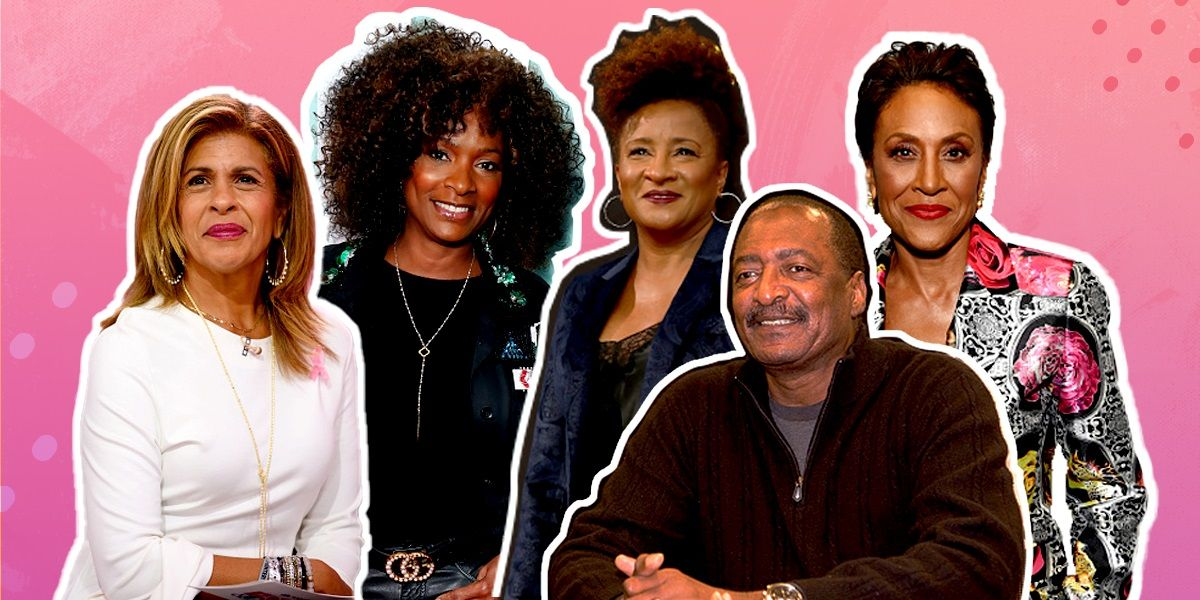 Written by BET Staff
It is without an ounce of doubt that National Breast Cancer Awareness Month serves as an important reminder to be an advocate for your health.
According to the National Breast Cancer Foundation, INC, 1 in 8 women will be diagnosed with breast cancer in her lifetime.
Sadly, one of the superwomen we recently lost to her battle with breast cancer was the legendary actress Diahann Carroll, who passed away at the age of 84 on Oct. 4, 2019.
Just recently, former host of BET's "Teen Summit" Ananda Lewis, 47, revealed that she is battling stage 3 breast cancer in an Instagram post.
"This is tough for me to share, but if just ONE woman decides to get her mammogram after watching this, what I'm going through will be worth it," she captioned the six-minute clip, encouraging followers be tested.
Although rare, the disease also affects men.
According to the Centers For Disease Control And Prevention, while about 245,000 women in the United States learn they have breast cancer each year, an average of 2,200 men find out they've diagnosed with the same disease.
Last year, we learned that Beyoncéand Solange's father, Mathew Knowles is amongst the rare group of men battling the disease.
After doing some research, we were shocked to learn that although Black women and White women get breast cancer at about the same rate, death rates are 40% higher among Black women, according to the CDC.
See a list of Black celebrities who have battled breast cancer:
1 ANANDA LEWIS
Former TV host, Ananda Lewis recently opened up about battling the illness for two years now, hoping her story will be a cautionary one for all women.
"For a really long time, I have refused mammograms, and that was a mistake," the 47-year-old Los Angeles native confessed. "I watched my mom get mammograms for almost 30 years almost, and at the end of that, she had breast cancer, and I said, 'Huh. Radiation exposure for years equals breast cancer. Yeah, I'm going to pass. Thanks anyway.'"
Lewis stands by her beliefs that too much radiation can cause cancer but said she wants women to understand that mammograms are still one of the most powerful tools they can have in early detection.
Let's continue to keep Ananda in our prayer's as she continues to fight this horrible disease.
2 MATHEW KNOWLES
It came as a big shock when Mathew Knowles revealed during an interview with Good Morning America that he'd been diagnosed with stage 1A breast cancer.
The 67-year-old father of Beyoncé and Solange declared he knew something was wrong after continuously finding tiny blood specs on his T-shirts. Doctors later revealed he had a BRCA2 gene mutation, which increases certain cancer risks.
"Thank God he [discovered] it very early on, and he is going to be fine," Tina Lawson said to Entertainment Tonightabout her ex-husband. "I'm [calling] it."
Since the diagnosis earlier this year, Mathew has had one breast removed and plans on having the other removed next year.
3 HODA KOTB
Hoda Kotb often uses her platform on the Today show to bring about breast cancer awareness and to uplift other breast cancer survivors with a message of hope and empowerment.
Diagnosed with breast cancer in 2007 after her gynecologist discovered lumps in her breast during a routine exam, the famed journalist— who was 43 at the time — chose to undergo a mastectomy and reconstructive surgery.
"When it was over, I learned a couple of things. You realize your life is to be valued and not wasted," Hoda shared in a 2009 Survivors Say."I also walked away with four wonderful words: 'You can't scare me.' […] No matter what happens in life, if you survive breast cancer, you get that."
4 ROBIN ROBERTS
Good Morning America anchor, Robin Roberts was also diagnosed with breast cancer in 2007 at the age of 46.
"I found my lump in a self-exam!" she told Prevention. "Because I was familiar with my body and the lumps, I knew this one felt different. It was in a different place on my breast, and it was hard. If I hadn't been doing self-exams, I wouldn't have known that."
Although Roberts made a full recovery after receiving lumpectomy and chemotherapy, the anchor has since been diagnosed with a rare condition: myelodysplastic syndrome (MDS), which has been speculated to be a result of the radiation from her cancer treatment.
Despite the speculation, the journalist has urged women not to disregard radiation as a treatment.
5 WANDA SYKES
Back in 2011, the comedian Wanda Sykes underwent breast-reduction surgery that revealed she had ductal carcinoma in situ (DCIS), best known as stage 0 breast cancer.
"I had breast cancer. Yeah, I know it's scary," she announced on the Ellen DeGeneres Show. "It wasn't until after the reduction that in the lab work, the pathology, that they found that I had DCIS [ductal carcinoma in situ] in my left breast […] I was very, very lucky."
Due to her family's history with breast cancer, Wanda deemed it best to undergo a double mastectomy. 
6 VANESSA BELL CALLOWAY
At the age of 52, actress Vanessa Bell Calloway best known as Princess Imani Izzi in Coming to Americawas diagnosed with ductal carcinoma in situ (DCIS), also known as stage 0 breast cancer.
Opening up about her experience with breast cancer with Ebonyin a personal essay, Vanessa revealed surviving breast cancer changed her perspective on life.
"I didn't want to miss life. I decided cancer was not going to ruin me […] Anytime you go through anything so emotional, you learn a lot. I'm very grateful and blessed. I love my birthdays even more," she wrote in her Breast Cancer Survival Story.
After undergoing a lumpectomy, a mastectomy, and breast reconstruction, she's been living her best life as a 10-year breast cancer survivor.
"I forget I even had cancer sometimes, because I'm so entrenched in the goodness of life. It's a gift," she added.
7 RICHARD ROUNDTREE
Richard Roundtree discovered he was among the small percentage of men diagnosed with a male form of breast cancer back in 1993, after finding a lump while filming a movie in Costa Rica.
Remaining silent about his diagnosis for five years, the original Shaft decided to go public with his survivor status at a celebrity golf tournament to raise money for a mobile breast cancer diagnostic unit.
"I just got up and told everybody that I was a breast cancer survivor," he shared according to BlackDoctors.org. "The room was totally silent. I think it dawned on people that men can be affected by this, too."
He continues to serve as an awareness advocate for male breast cancer.
8 BERSHAN SHAW
After being diagnosed with stage-4 breast cancer at the age of 33, and given only 3 months to live, Bershan Shaw defied the odds and is now a 12-year cancer survivor.
"I thought my life was over. I thought I was never going to make it in my career. I didn't see the light at the end of the tunnel. I saw no tunnel nor light," the Love in the City starshared on her Instagram.
She continued, "I'm here today alive. 12 years after my first diagnosis and ten years after my second diagnosis. I stayed faithful. I prayed. I stayed positive in my beliefs. I did affirmations. I told myself everyday that I was a Warrior." 
9 CALYPSO ROSE
In 1996, Calypso Rose battled and beat breast cancer. The legendary musician/songwriter renown as the "Mother Of Calypso," has since continued to bless the world with her talents.
Earlier this year, the Trinidadian trailblazer made herstory as the oldest artist to perform at Coachella '19, at the age of 78! Not to mention, she was the first calypso performer to play a full set at the festival. Talk about inspiration!
To learn more about Black women's breast health during National Breast Cancer Awareness Month, be sure to visit: knowyourgirls.org
Source: https://www.bet.com/style/living/2020/10/05/celebrity-breast-cancer-survivors.html