Review: DC Black Theatre Festival: 'Letters from Zora: In Her Own Words'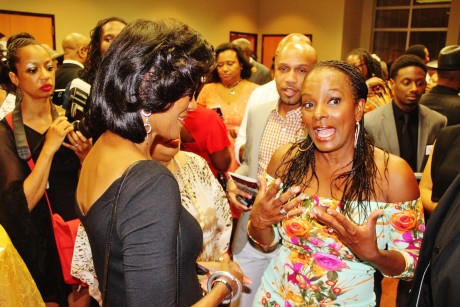 by Ramona Harper on June 20, 2015
 The Harlem Renaissance was magically rebirthed through Vanessa Bell Calloway's phenomenal one-woman performance ofLetters from Zora: In Her Own Words at the gala opening for the 6th Annual DC Black Theatre Festival. Zora Neale Hurston, African American folklorist and novelist, surely would have snapped her fingers,  sassy hands-on-hips, proudly proclaiming once more, "Baby I'm Here," as  her-story and the literary genius of  an incredible  life  came  alive on the beautiful stage of THEARC Theatre.
Vanessa Bell Calloway in 'Letters From Zora.' Photo by Chris Roman.
The DC Black Theatre Festival has become one of the most significant cultural celebrations in the Washington DC area. For the sixth year, DCBTF is showcasing some 100 works of local and national playwrights, actors and directors in a 9-day extravaganza. DCBTF's choice for opening night, Letters from Zora: In Her Own Words, was a fitting tribute to a pioneer who led the way and opened the door to new creative expression in the arts. Zora Neale Hurston stands out as a literary giant and pioneer who deeply influenced American culture through her writings by provoking new conversations about race and what it means to be black in America in a time of social upheaval and cultural change in the early decades of the twentieth century that still resonate today.
Playwright Gabrielle Pina premiered Letters from Zora: In Her Own Words in 2012 to a sold-out crowd at the University of Southern California, where she currently teaches. According to Pina, Letters from Zora is,"an authentic multi-sensory experience of an extraordinary woman who defied social conventions of the day and lived a life of her own creation. The artistic fusion of music, history and literary prose illuminates the resilience of the human spirit as well as Hurston's philosophy of life and literature in her own words."
Vanessa Bell Calloway gives a feisty firecracker of a performance as the completely uninhibited Zora Neale Hurston and self-proclaimed "original cougar." Stage, screen and television actress and dancer Vanessa Bell Calloway recently received an NAACP Theater Award for Best Actress for her passionate performance depicting the life of this courageous African American anthropologist, thrice-married early feminist, political activist and literary luminary who grounded her works in the rich folk lore and culture of the American south where she was born in 1891.
Letters from Zora is a riveting one-woman show and you can't take your eyes off the spunky Vanessa Bell Calloway for fear you will miss some outrageous Zora snippet or one of her capricious witticisms. The show never misses a beat with Vanessa's high energy no doubt fueled by the expressive words of Ms. Hurston, Pina's script, and the fine direction of Anita Dashiell-Sparks.
The lost art of letter-writing is the platform for an evening of creative story-telling at its best as Vanessa Bell Calloway narrates the adventurous life of Zora Neale Hurston using her personal  letters, starting with her early childhood in Alabama to her death in 1960. Zora's preacher father would later move the family to Eatonville, Florida when Zora was very young. And Florida would be the place where she returned at the end of an accomplished yet tragic life in which she contemplated suicide and died destitute. Hurston wrote some 1,000 letters to close friends like Langston Hughes and Countee Cullen, fellow writers and creative collaborators. Full-screen graphics of Zora's handwritten letters are an effective backdrop that anchor us in the moment and the message.
Zora Neale Hurston. Photo courtesy of Wikipedia.
Original music from the bluesy jazz era of the Harlem Renaissance by Ron McCurdy adds another delightful sensory dimension to the sights and sounds of an amazing life. Calloway embellishes the sole navy blue dress she wears in the play with a period statement mink cape and coat with that pulled-down black cloche hat which has become a Zora Neale Hurston brand mark. Hanging in the background is a sexy red dress that really says it all about the finger-poppin', cocktail drinkin', high life livin' Zora Neale Hurston.
She loved life and studied it with passionate precision. But she was a woman ahead of her times and eventually was subjected to male chauvinist criticism from noted African-American writers of the era such as Richard Wright and others in the "Talented Tenth." They took issue with the intrinsic value Zora placed upon the common folkways of her people that didn't reflect their high-brow intellectual approach to self-respect and equality for blacks in America.
Zora Neale Hurston refused to be compartmentalized. She refused to be a victim of "literary lynching" and she chafed at the notion of positing herself in the "mental pawn shop" that she felt some of her intellectual contemporaries had succumbed to.
Zora Neale Hurston's complex artistic and political views are superbly conveyed through the energetic motions and expressive emotions projected by the remarkable Vanessa Bell Calloway.
I left the theater feeling that I had gotten to intimately know the real Zora Neale Hurston, as Vanessa brought Zora's personality to life in an evening of entertaining and profound vignettes, ripe with rich teachable moments.
Ramona Harper  (left) speaking to talking to Vanessa Bell Calloway (Right) at the after-party. Photo by Malcolm Lewis Barnes.
In an after show gala reception, I had the opportunity to meet Ms. Calloway and she shared with me that Gabby Pina's play was a divine gift to her. She said that the words of Zora Neale Hurston are beautiful and that she gets excited saying them. She hoped that the audience would feel the same sense of excitement that she does when they see Letters from Zora: In Her Own Words. I know I did.
Running Time: 90 minutes, with no intermission.
Letters from Zora: In Her Own Words ends its run at 8 PM tonight at THEARC Theatre – 1901 Mississippi Ave. SE, in Washington, DC.
Purchase your tickets to the DC Black Theatre Festival
RATING: 
© 2015 DCMetroTheaterArts. All Rights Reserved.