Review: Vanessa's Lady Ella Stirs Things Up In "Saints & Sinners"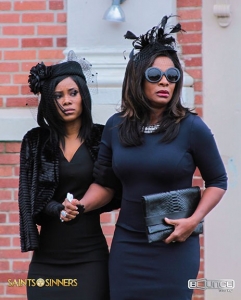 Vanessa Bell Calloway is an unlikely amalgam of God-given gorgeousness, dramatic chops and unbeatable comic timing. In her turns as Lady Ella on Bounce TV's "Saints and Sinners" and as Carol Fisher on Showtime's oh-so-aptly named comedy-drama "Shameless," she displays her copious talent, wasting no opportunity and leaving no stone unturned in her acting arsenal as she takes viewers along for whatever ride her character is currently on. She makes you love, hate, laugh at and laugh with her characters.
There are plenty of actresses who can do either drama or comedy very well. Calloway proves again and again she is master of both in equal measure. In "Saints and Sinners" she plays Lady Ella, who slays sartorially as well as politically. A sort of Lady Macbeth behind the pulpit, she doesn't merely desire to be the power behind the pulpit, she wants her very own pulpit—or podium, to be more exact. Lady Ella has her expertly made-up eyes on public office and will do whatever it takes to get there.
It is this unquenchable thirst for power that attracted Calloway to the role. Revealing why she was drawn to the challenge of playing such a character, she said, "This wasn't your typical first lady just sitting in the church in the shadow of her husband. She had her own agenda, her own life. She was a community activist, she was a city councilwoman, she's a mother, she's a wife, she's a businesswoman, so I liked all the aspects that Lady Ella possessed."
But Lady Ella does fall quite a few virtues short of being the Proverbs 31 woman. To start with, there is her dalliance with Mayor Pamela Claybourne, played by Gloria Reuben. Explaining the dynamics of the relationship, Calloway stated, "Lady Ella is an opportunistic person. I always tell everybody she ain't a lesbian, she's opportunistic. She knows what she needs to do to get where she needs to go and the current mayor is going to help her become the [next] mayor. It's not a love thing for Lady Ella; it's an opportunity issue for her."
The church as the setting for a nighttime soap opera, on the face of it, seems an unlikely choice. When looked at in the context of the African-American community, however, the picture comes into better focus. On that subject Calloway offered, "It's a powerful symbol because, well, that's where most of us come from. We were raised in the church. That goes back to slavery days, when all we had was God. There are a lot of great stories in the church because people are just people. They aren't saints, they aren't bishops and popes. They're just people who are trying to make their lives work and the church is their refuge, where they go for spirituality and to be cleansed, rebirthed and renewed, and they're human, so they fall. So the church is always going to play an important part."
Besides the character itself, the show's ensemble also attracted her to the role. "The cool thing is when you've been in the business as long as I have been, you get to work with a lot of people," she said. "I knew damn near everybody anyway and if I didn't know them, I knew of them or kind of knew them. The only person I really didn't know much was the young lady who plays my daughter, and now we adore each other—Jasmine Burke. It's fun when you get to a job and you know the other castmates. It makes everything go better. It makes your day go better."
Read the full article on New York Amsterdam News