Tina Knowles Lawson will be joined by Vanessa Bell-Calloway, Lynn Whitfield, and Beverly Johnson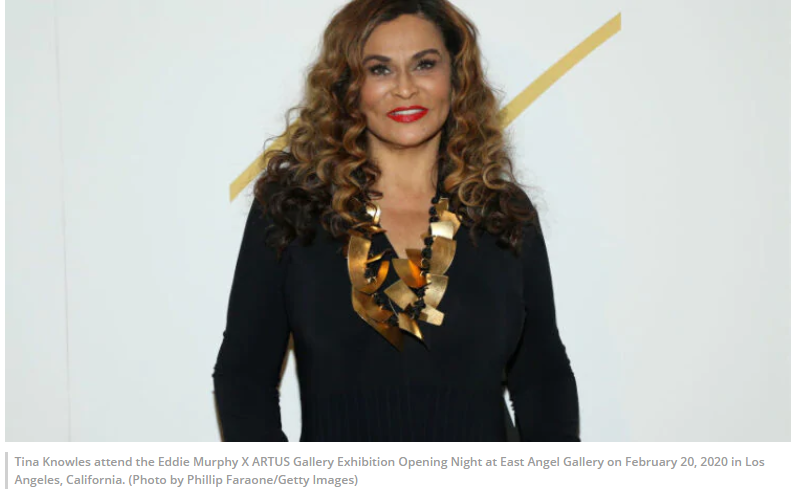 Tina Knowles attend the Eddie Murphy X ARTUS Gallery Exhibition Opening Night at East Angel Gallery on February 20, 2020 in Los Angeles, California. (Photo by Phillip Faraone/Getty Images)
Tina Knowles Lawson is about to get real on the upcoming episode of OWN's Girlfriends Check In.
The Queen Mother will be joined by her real-life homies, Vanessa Bell Calloway, Lynn Whitfield, and Beverly Johnson, on a special "Sexy, Sixties, and Savage" episode of the reality show.
theGrio has an exclusive sneak peek of Saturday's episode that features Whitfield and Knowles-Lawson hosting an evening with their fun and fabulous girlfriends.
It's nonstop conversation and antics when the ladies take on every topic from sex to family to activism. The ladies make it clear and show you that they are still in the game. Whitfield shares one of her favorite go-to beauty items, while Johnson gives up the tea on the many private uses for avocado oil. Knowles-Lawson shows her fashion savvy when she surprises the ladies with a custom T-shirt made just for them.
The ladies share how special it is to have daughters and talk about what life's like as a sexy grandma, while Knowles-Lawson shares an emotional and touching moment about how her daughters were there for her at one of her lowest moments. Whitfield is excited at Calloway's suggestion that she and Greenleaf's "Lady Mae" might need to have a First Lady reunion, until Calloway reminds her that her First Lady role is that of a killer.
Later, Johnson announces she and her beau just got engaged! The ladies are elated and happy to know that love still reigns, and are delightfully shocked to learn that one of them learned all about sex from a call girl! It's an evening of fun, family, friendship, and sisterhood.
Check out the exclusive sneak peek:
Source: https://thegrio.com/2020/08/07/tina-knowles-lawson-on-girlfriends-check-in/