TMZ interviews Vanessa Bell Calloway about Eddie Murphy's "Coming to America" Sequel tweet!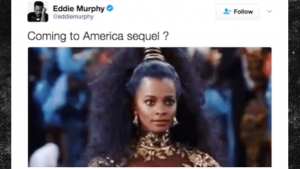 The tweet and Eddie's whole account have since been deleted. That's most likely because we're told there was a plan to post something like this, but it wasn't supposed to happen yet. As we said, Eddie's still writing.
The premature release caught fans and Princess Imani by surprise. Vanessa, who's barely aged in the nearly 30 years since the original film, told us she's ready to go.
So are fans, so someone just yell "Action!" already.
Original source: www.tmz.com/2017/03/16/eddie-murphy-coming-to-america-2-sequel-vanessa-bell-calloway/
---