#WHILEWEBREATHE PRODUCERS ON PURPOSEFUL STORYTELLING AMIDST RACIAL TENSIONS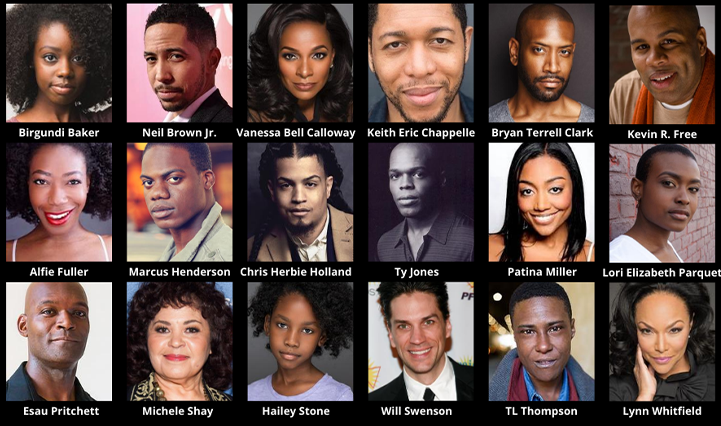 In the wake of George Floyd's killing, theater makers are moving swiftly to address police brutality and systematic racism.
Brian Moreland (Blue) and Arvind Ethan David (Jagged Little Pill) created #WhileWeBreathe: A Night of Creative Protest, an online event to benefit organizations committed to social justice. The live show will premiere short works written and directed by people of color and will feature performances from Lynn Whitfield (Greenleaf), Vanessa Bell Calloway (Coming to America), Bryan Terrell Clark (Hamilton), and Ty Jones (The Great Society), among others.
"Shortly after the killing of George Floyd, I sent an email to the theatre owners and lead producers of all the shows on Broadway," says Moreland of the show's origin. "I wrote, 'Hey, listen, I need you guys to speak up.' The person who immediately responded was Arvind. He called me and said, 'I think we can do more than just a statement. We can do something and put all of our voices to use.'" Together, Moreland, who is African American, and David, an immigrant of Indian origin, are focused on how the theater community can work to produce impactful stories that will help fight racism at its core.
Moreland and David spoke to Broadway Direct about their hope for the event's impact.
---
Black people have been unjustly murdered by the hands of police for decades. In your opinion, why was Mr. Floyd's death the catalyst for change?
Brian Moreland: Floyd's killing was an amalgamation of everything that has transpired. It is the culmination of every single injustice that has happened to marginalized communities. We were all sitting in our homes, quarantined and isolated, with no outlets to express our feelings.
Arvind Ethan David: There's a saying: "When the tide goes out, you see who isn't wearing shorts." I think COVID-19 is the tide going out on America, and the structural flaws created by 400 years of institutionalized racism is not having shorts. People of color have always known that, but this time white people were at home with nothing to do but watch their televisions, and suddenly they can't avoid this anymore.
Brian, you said that you urged your colleagues to speak out. Why was it important to you?
Moreland: I needed them to support and to stand up and help us fight, because that's the only way we actually change things, is we do it together. The community of theater, the community of Broadway, that word community, is really important to me. It's a sense of unity, of pride, of coming together. We do it for our animals. We do it for diseases that affect our community. But we were not doing it for Black and Brown communities that were being affected this way. I needed their support. I'm a member of this community and I love it and I need you to love me back.
How did you curate the writers for this event?
Moreland: There were people we already had in mind, who, through casual conversation, we knew were feeling a certain way. It was very collaborative in that way of making sure people's spirits were moving in the right directions and they had a desire to express [themselves].
David: We hope that there is a world in which this isn't a one-off, and there are ways to continue it and keep the work going.
You call #WhileWeBreathe "a night of creative protest." What do you hope viewers will take from it?
Moreland: I hope that people of color, and people who have experienced [injustices], believe that we have gotten it right. I hope the families of people who have been directly impacted by the murders of Breonna Taylor, George Floyd, Eric Garner, etc., believe we got it right with telling their stories and experience. I hope our [white] allies walk away with sympathy and understanding and a new way to move through this world to help and support us.
David: Stories are an empathy-delivering system, and are the way you get to take someone who would not necessarily have empathy for your situation and have them experience it in an emotional narrative form. I think that this material will do that for the broadest audience possible.
This event is raising funds for the NAACP Legal Defense Fund, the Bail Project, and other organizations. How do you envision the relationship between this event and its beneficiaries?
David: What we wanted to do here was not just to randomly give money. We wanted to align ourselves in a long-term way with a series of organizations that we could not just do a one-night thing for, but continue to perform an objective. I reached out to the Legal Defense Fund and had a long conversation with them. They said, "Yes. … We love what you're doing." Interestingly, one of the things about the Legal Defense Fund is that because they are a pretty historic organization, they actually have more visibility and more support amongst older people, [so] they're keen on attracting the youth. They said, "Well, maybe your work can help expand in that way." It was one of the things that made us decide to make this free, but with a donate function, as opposed to behind a paywall.
Moreland: I think about, when crisis strikes, the first responders who are on the ground, they only have about a week or two weeks to really act. Within that period, you're trying to get the greatest amount of change that you can, and that change comes in a variety of ways. The first way could be a statement. The next way could be a promise. The third one could be, "Great. We're going to commit to sitting down to renegotiate, sit around to add something." But you have this window of opportunity to actually make sure we can affect that change so it doesn't just become a moment, but it becomes a lifetime of impactful change, systemic change.
#WhileWeBreathe: A Night of Creative Protest will premiere Wednesday, July 29, at 9 p.m. ET on WhileWeBreathe.com and YouTube Live.
Source: https://broadwaydirect.com/whilewebreathe-producers-on-purposeful-storytelling-amidst-racial-tensions/